Manor Musings: A Family Affair – Evelyn Simpson Celebrates 100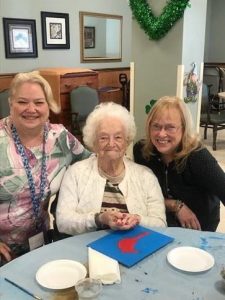 This week, Webster Manor resident Evelyn Simpson celebrated a special milestone – her 100th birthday.
She celebrated the only way she would ever want it – with her family and friends coming together to visit, share memories, and laugh.
It's appropriate because Evelyn and her daughters have become major parts of the family environment here at Webster. Her daughters Diane and Linda are fixtures at Webster, visiting every week and participating in activities. Last Halloween, they even showed up in costumes to entertain the residents.
"We are kind of the entertainment," joked Linda. "We've met so many wonderful residents. After all, what does a smile cost?"
Evelyn came to Webster three years ago after a fall in her home in Sturbridge. Evelyn and her family were familiar with Webster because her husband, Billy, had been a resident himself from 2002-2004. When the decision was made that Evelyn needed more support, Webster was a natural choice.
"Dad felt really comfortable here and we felt this was a really good fit for her as a family. We were so thankful that there was a spot available," said Diane.
Now, Evelyn enjoys many of the activities at Webster. She loves live music every Wednesday. And both daughters come in on Thursdays for the art class together as a family.  Evelyn also likes to go to mass. "Even though I'm not catholic," she laughs, adding that she still enjoys the spirituality of the mass.
The family also appreciates the personal care Evelyn receives at Webster and the responsiveness of the staff. A couple of weeks ago, they received a call from Evelyn's nurse saying he had noticed a change in behavior and wanted to make sure everyone was monitoring it together.
"We were able to all watch it and, ultimately, things came back to normal. But it was reassuring to know that we had people thinking about and caring for mom and being so communicative with us."
Evelyn has definitely become a favorite here at Webster. Many of the staff call her "Auntie" as a sign of respect. So we wanted to wish a happy 100th to "Auntie" Evelyn! We're so happy to have you and your family as part of the Webster Manor family.